Kennel Location,
Directions
Address:
2898 W. Center St.
Provo, Utah, 84601
Directions:
From I-15 North take exit 265 (Provo Center St.) As you approach the exit stay on the rightmost lane (under the sign that says Utah Lake State Park, Airport). At the bottom of the exit you will find a stop sign. make a right turn onto Center St. and drive west toward the Utah Lake for about 1 mile. We are on the right (north) side of the road across the street from the Nursing Home "Country View Manor". Upon finding our address please enter the long driveway to the back of the property through the open gates. A small sign on the side of the gate includes our name and operating hours plus an emergency number.

From I-15 South take the exit 265 B. This will put you on Center St. going west, then follow the same directions as above.

If you make a mistake and end up in Downtown Provo (facing east toward the mountains), turn around and go west on Center. Stay on the center lane of the street! This will put you over the bridge and then under I-15 allowing you to continue west on Center, otherwise you may end up inadvertently entering I-15 going north to SLC.

For questions please email us.
Location Map
We are Located at the green arrow. Map by Google Maps.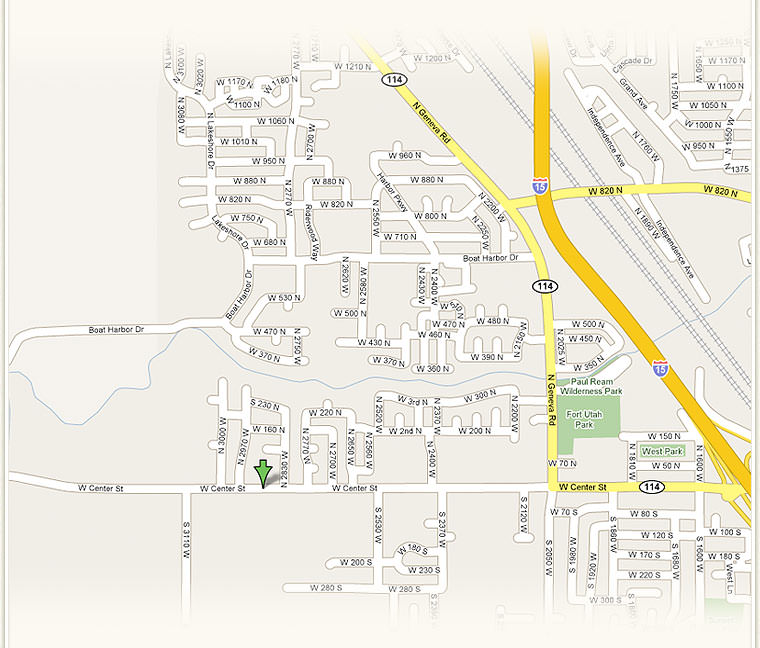 Business Hours,
For Your Convenience
Monday - Friday: 9:30 AM to 12:00 Noon, and 4:00 PM to 6:00 PM
Saturday: 9:00 AM to Noon only
Sunday: 4:00 PM to 6:00 PM only