How We Function,
Our Process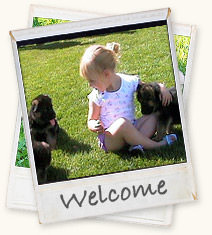 Every dog is housed in large indoor kennels and in wings with a maximum capacity of six other "neighbors." This decreases the stress level, noise, and "warehousing" effect created in other facilities.
While indoors, each kennel is blocked in such a way that dogs will not be in direct visual or physical contact with one another through open chain link fences. This allows for a better sense of security and personal space.
In the course of the day your dog will enjoy a minimum of two individual playtimes in large turnout grass/gravel areas. These areas are natural, secure environments with shade and high solid fences.
Only dogs that live in the same household are allowed to play together. Individual dogs will be turned out alone unless otherwise requested by owner. When two or more owners request "social time" it will be provided with these participating clients and under supervision.
What We Provide,
Our Services
For their stay:
We provide bedding and blankets, biscuits and rawhides. Owners may bring their own blankets should they choose to do so. Indoor kennels are heated in the winter and air-conditioned in the summer. Blankets are for padding purposes only.
For their health:
We provide Iams Dog food in the following varieties: Iams Adult, Puppy and Lamb and Rice formulas. We also provide Pedigree Canned dog food for the "finicky eater". Owners may bring their own diets if they so choose. Boarding fees will not vary due to home products.
For their fun:
We have collected a large variety of toys over the years and we make them available to your pet upon request.
For their looks and your pleasure:
Dogs who stay with us for more than two boarding periods will receive a free bath as they go home. Baths are given the night before for next morning pickups or in the morning of that evening pickup. Dogs are toweled-dried. No other grooming techniques are performed such as nail trims, undercoat raking or blow-drying.
For Your Cats
Cats are boarded in a separate room from dogs in order to reduce stress. We provide extra large stainless-steel double cages where they have their bed, litter box, water, and food, with still ample room to ambulate.
Friendly and responsive kitties are also allowed to roam freely in a separate office room where they can feel as good as at home.
Business Hours,
For Your Convenience
Monday - Friday: 9:00 AM to 12:00 Noon, and 4:00 PM to 6:00 PM
Saturday: 9:00 AM to Noon only
Sunday: 4:00 PM to 6:00 PM only