Ricmar Kennels,
Pet Boarding in Provo, Utah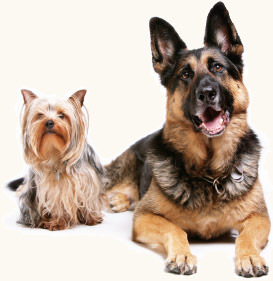 When we decided to start this venture we had been in the dog care business for many years. Our minds were fresh with the ideas, worries, and suggestions we heard from pet owners while working as Kennel Managers, Veterinary Assistants, breeders, and show competitors.
These insights gave us the inspiration to build a facility made to your specifications. Large indoor runs, spacious turnout areas, visual barriers, green fields, natural shade, and close contact with caretakers are the key features that increase the quality of your pet's stay.
The most common comment people make when returning from a vacation is: "My dog always seems so happy to be here".... It is by far the best compliment we could ever hope for.
Business Hours,
For Your Convenience
Monday - Friday: 9:30 AM to 12:00 Noon, and 4:00 PM to 6:00 PM
Saturday: 9:00 AM to Noon only
Sunday: 4:00 PM to 6:00 PM only
For questions please email us.
Opinions We Strive to Deserve,
Client Testimonials
For the past eight years our beloved 'Zachary' has been in the care of Ricmar Kennels during our travels. At the age of twelve, he is still being trusted to Julia and Ricardo because we believe they are the best.
Mike Brescia & Dr. Susan Maturlo,
Springville, Utah
I asked three different veterinarians in my area who they recommend. The opinion was unanimous in favor of your kennel.
Susy Despain,
Pleasant Grove, Utah
I tried many kennels in the area... once I took my dog to Ricmar I knew I found what I was looking for.
Jane White,
Orem, Utah